Creating multiple bonding interfaces in Ubuntu 14.04 LTS
Hi,
I wanted to share some learnings about bonding configuration which I could not find elsewhere.
"Bonding, also called port trunking or link aggregation means combining several network interfaces (NICs) to a single link, providing either high-availability, load-balancing, maximum throughput, or a combination of these." [1]
Bonding is an essential technology for highly available Linux systems. Thankfully all major distributions support bonding in some way. In Ubuntu you can easily create a bonding interface in /etc/network/interfaces. But this is only supported for a single interface.
What if you need bond0 and bond1 or even more independent bonding interfaces, maybe with different modes of operation?
We currently introduce Ceph in our datacenter so I wanted two logical interfaces (for the Public and Cluster network) with a primary 10GBit primary and a 1 GBit backup physical interface.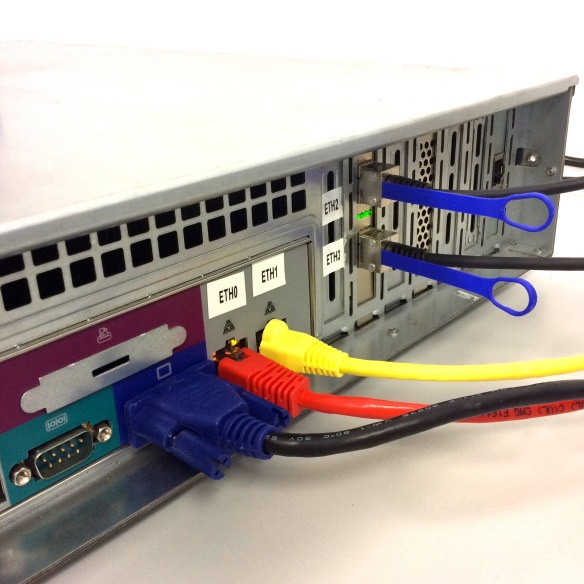 I found many recipes which relied on modprobe. But in order to create multiple bonding interfaces the bonding module needs to be loaded into the kernel several times, e.g.:
modprobe bonding -o bond0 mode=active-backup miimon=100 primary=eth2 max_bonds=2
modprobe bonding -o bond1 mode=active-backup miimon=100 primary=eth3 max_bonds=2

This method however doesn't work with Ubuntu 14.04, because modprobe is now kmod and -o is no longer supported.
The solution is to use the Sysfs-Interface of the bonding module and to create and configure the bonding interfaces yourself during the upstart process:
you must not load the bonding module in /etc/modules because this immediately triggers the networking configuration, but you cannot configure bonding once the interface is up
Use a custom Upstart Configuration to create the bonding interfaces manually (see /etc/init/bonding.conf below)
use a script to create bonding interfaces (see listing below)
now you can configure the interfaces and enslave physical interfaces in /etc/network/interfaces in the usual way
Good luck and may the uptime be with you,
Christian
/etc/init/bonding.conf
# bonding interfaces
description    "bonding interfaces"
start on (startup
   and started udev)
# stop on runlevel [!2345]
umask 022
script
   /usr/local/tools/create_bond_interface.sh -v -i bond0 -m 1 -p eth2
   /usr/local/tools/create_bond_interface.sh -v -i bond1 -m 1 -p eth3
end script
create_bond_interface.sh:
#! /bin/bash
VERBOSE=0
INTERFACE=bond0
MODE=1
PRIMARY=eth0
PROGRAMNAME=$0
usage () {
   echo "Usage: $PROGRAMNAME [-v] [-h] [-i INTERFACE] [-m MODE] [-p PRIMARY]"
   echo
   echo "   -v           be verbose"
   echo "   -h           this help"
   echo "   -i INTERFACE create bonding Interface (default: bond0)"
   echo "   -m MODE      bonding mode"
   echo "   -p PRIMARY   only Mode 1: Primary Interface"
   exit 1
}
while getopts ":hvi:m:p:" opt; do
   case $opt in
      h)
         usage
         ;;
      v)
         VERBOSE=1
         ;;
      i)
         INTERFACE=$OPTARG
         ;;
      m)
         MODE=$OPTARG
         ;;
      p)
         PRIMARY=$OPTARG
         ;;
      \?)
         echo "Invalid option: -$OPTARG" >&2
         usage >&2
         exit 1
         ;;
      :)
         echo "Option -$OPTARG requires an argument." >&2
         exit 1
         ;;
   esac
done
# load bonding module
modprobe bonding
# create bonding interface if it doesn't exist
EXISTING_BONDS=`cat /sys/class/net/bonding_masters`
echo " $EXISTING_BONDS " | grep " $INTERFACE "  >/dev/null
if [ $? -gt 0 ] ; then
   echo "+$INTERFACE" >/sys/class/net/bonding_masters
fi
# check if interface exist now
if [ -d /sys/class/net/$INTERFACE ]; then
   echo $MODE >/sys/class/net/$INTERFACE/bonding/mode
   echo 100 >/sys/class/net/$INTERFACE/bonding/miimon
   if [ ! _$PRIMARY == _ ]; then
      echo $PRIMARY >/sys/class/net/$INTERFACE/bonding/primary
   fi
else
   echo "Creation of Interface $INTERFACE failed"
   exit 1
fi
if [ $VERBOSE -gt 0 ]; then
   echo -n "Bond Interfaces:    "
   cat /sys/class/net/bonding_masters
   echo    "Interface created:  $INTERFACE"
   echo -n "Bonding mode:       "
   cat /sys/class/net/$INTERFACE/bonding/mode
   echo
   cat /proc/net/bonding/$INTERFACE
fi
ifconfig $INTERFACE up
exit 0
Example /etc/network/interfaces:
# This file describes the network interfaces available on your system
# and how to activate them. For more information, see interfaces(5).
# The loopback network interface
auto lo
iface lo inet loopback
auto bond0
iface bond0 inet static
   address AA.BB.CC.DD
   netmask 255.255.255.0
   gateway AA.BB.CC.XX
   dns-search MY.DOMAIN
   dns-nameservers NAMESERVERS
   pre-up ifenslave bond0 eth0 eth2
   post-down ifenslave -d bond0 eth0 eth2
auto bond1
iface bond1 inet static
   address WW.XX.YY.ZZ
   netmask 255.255.255.0
   pre-up ifenslave bond1 eth1 eth3
   post-down ifenslave -d bond1 eth1 eth3

Troubleshooting
* Status via /proc-Filesystem. Erfolgreiches Interface z.B.:
root@s3cn1:~# cat /proc/net/bonding/bond0
Ethernet Channel Bonding Driver: v3.7.1 (April 27, 2011)
Bonding Mode: fault-tolerance (active-backup)
Primary Slave: eth2 (primary_reselect always)
Currently Active Slave: eth2
MII Status: up
MII Polling Interval (ms): 100
Up Delay (ms): 0
Down Delay (ms): 0
Slave Interface: eth0
MII Status: up
Speed: 1000 Mbps
Duplex: full
Link Failure Count: 0
Permanent HW addr: 00:30:48:64:db:b2
Slave queue ID: 0
Slave Interface: eth2
MII Status: up
Speed: 10000 Mbps
Duplex: full
Link Failure Count: 0
Permanent HW addr: f4:52:14:3d:fe:70
Slave queue ID: 0
* Upstart-Logfile:
root@s3cn1:~# cat /var/log/upstart/bonding.log
----------------------------------------------------
Bond Interfaces:    bond0
Interface created:  bond0
Bonding mode:       active-backup 1
Ethernet Channel Bonding Driver: v3.7.1 (April 27, 2011)
Bonding Mode: fault-tolerance (active-backup)
Primary Slave: None
Currently Active Slave: None
MII Status: down
MII Polling Interval (ms): 100
Up Delay (ms): 0
Down Delay (ms): 0
----------------------------------------------------
Bond Interfaces:    bond0 bond1
Interface created:  bond1
Bonding mode:       active-backup 1
Ethernet Channel Bonding Driver: v3.7.1 (April 27, 2011)
Bonding Mode: fault-tolerance (active-backup)
Primary Slave: None
Currently Active Slave: None
MII Status: down
MII Polling Interval (ms): 100
Up Delay (ms): 0
Down Delay (ms): 0